EFC Scholarship Program
Accepting Applications beginning February 27, 2023. Deadline June 9, 2023.
Electro-Federation Canada (EFC) and its members are proud to support the next generation of leaders who will power a changing world in the Canadian Electrical industry. This industry is made up of inventors, creators and visionaries who are creating new approaches to how electrical products are used by Canadians at home, work and play. View this video to learn more about the industry.

The EFC Scholarship program provides post-secondary students who are interested in pursuing a career in the Electrical industry, with funding to support their academics.

If you're a post-secondary student who is pursuing a career in Electrical Engineering, Electrical Technologist/Technician, Industrial Distribution, Sales, Marketing, Finance, Human Resources, Supply Chain/Operations, Logistics, Data Analytics Management or Information Technology – then consider a career in an industry that is committed to a safer, more environmentally-sustainable future for Canadians. Take the first step by applying for up to three scholarships now!
Scholarships
Explore over 60 scholarship opportunities available through this program and apply for your future today! View all available scholarships. Scholarship recipients will be announced in Fall 2023.
Eligibility
All applicants are Canadian citizens or permanent residents who have completed their first year of a recognized university or college in Canada, have maintained a minimum 75% average* and be registered in a full-time 2023 eligible post-secondary degree or diploma program. Students must be enrolled in their program and attending school in Fall 2023/Winter 2024 semesters. Applicants may apply for a total of only three scholarships. Please review specific criteria for each of the EFC member sponsored scholarships. In addition, EFC will be awarding 12 $1,000 EFC University & College scholarships from all applicants.

For all scholarships, preference will be given to those applicants with a connection to an EFC member company (http://www.electrofed.com/members/) and who are pursuing post-secondary education in a discipline which targets a career in the Electrical industry, such as Electrical Engineering, Electrical Technologist, Electrical Technician, Industrial Distribution, Sales, Marketing, Finance, Human Resources, Management Operations, Logistics and Information Technology.


*Electro-Federation Canada and its members reserve the right to request verification of any information submitted by an applicant. All selected students will be asked to provide both an official transcript and proof of 2022/2023 school enrollment prior to the scholarship being confirmed and awarded. Selected students will provide permission for promotion of their name and scholarship in media and marketing materials. All decisions are final and not eligible for appeal.
Message from the Chair
Catherine McKeown
Chair – EFC Scholarship Committee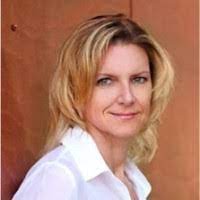 Catherine McKeown
Chair, EFC Scholarship Committee
As newly appointed Chair of The Electro Federation of Canada (EFC) Scholarship Committee for 2023, supporting education and learning through personal and professional growth of Canadian students is an initiative that has always been near and dear to my heart. With baby boomers retiring from the industry sector and fierce talent competition, the promotion of our industry to up-and-coming Canadian talent is an important lever in solidifying our collective business success and the growth of the communities we serve.
The electrical industry is more relevant politically and economically than ever, with a resurgence of investment in critical infrastructure and capital investment in electrification. Although we are facing impending headwinds, some economists suggest industrial growth for the balance of the decade, and our sector is well-positioned to support this growth. What better time to promote our industry sector while offering much-needed financial support to Canadian students during these transformative times?
Through its membership, the EFC Scholarship program is an important initiative where EFC is making a significant impact in growing potential industry talent through educational and financial support to Canadian students. During these times of economic pressures and challenges, this support is vital and welcomed and makes a difference in a student following their dream in their academic career. The EFC Scholarship program is a tremendous mechanism to increase awareness of opportunities for students in many disciplines, such as Engineering, Human Resources, Information Systems & Cybersecurity, Operations, Sales and Marketing, as well as General Business Management within the electrical industry.
Our collective member company stories highlighting prospective and rewarding career choices are shared with universities, colleges, and vocational education centers across Canada utilizing the Canadian Scholarship student database. The program provides valuable career choices for students and builds education and awareness of our industry's great opportunities. Our expanded program also offers opportunities to connect at the classroom level with our partner, Riipen, providing access to in-class projects and branding on their school website.
On behalf of the EFC Scholarship Committee, I am pleased to announce in 2023; we will be offering over $150,000 in funding. The Scholarship Campaign runs from February 13 through to May 26 with participating companies such as leading manufacturers, distributors, manufacturers reps, automation partners, and associations within the industry that have provided increasing levels of financial support to Students. Our EFC members are connected with scholarship recipients by providing an awareness of the relevance of our sector and their own company's contribution to the industry. In some instances, these companies view this program as an important talent pipeline initiative and may also offer internship and employment opportunities to successful recipients. All prospective students are encouraged to explore a multitude of scholarship opportunities offered by members of the electrical industry and can apply directly at https://scholarship.electrofed.com.
We would be remiss without expressing gratitude and acknowledgment to all of the EFC Scholarship Committee members who have dedicated their time and effort to achieve program goals and all of our members who have made this initiative possible for the past 27 years. This Fall, we look forward to sharing the list of talented Canadian students achieving Scholarships for 2023.


Sincerely,
Catherine McKeown
Chair, EFC Scholarship Committee
Chief People Officer, Hammond Power Solutions Inc. "Passionate People energizing a better world."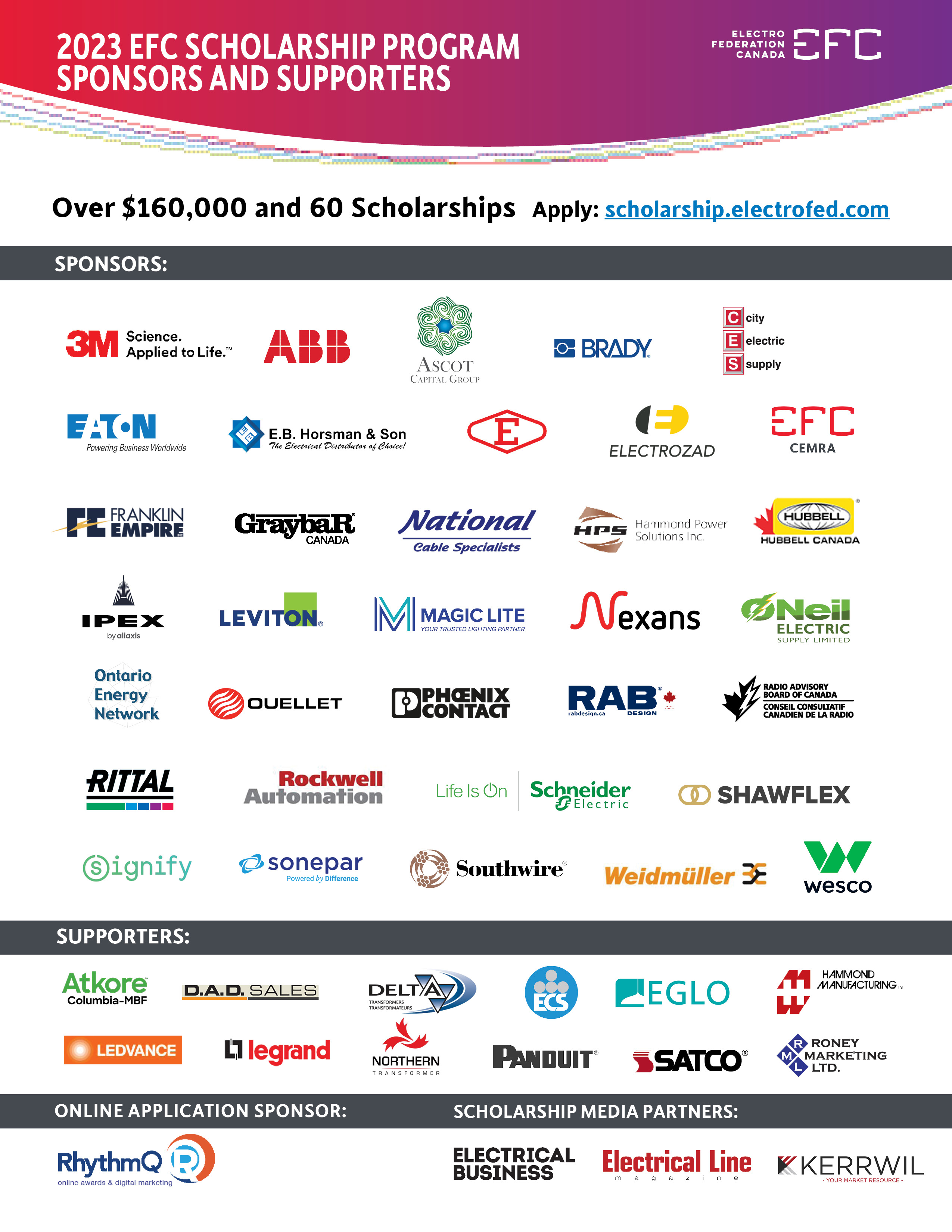 Application Process

1. Register
Click on the "Register" link to the right and complete and submit the registration form.
2. Login
Login to the EFC Scholarship System with your email and password.
3. Select
Create an application.
4. Save
During the applications period, your application can be saved as DRAFT until all the required information is completed and attachments uploaded. At any time, you can download and print your application by clicking on the

icon in the Application Summary section.
5. Submit
On completion, submit your application as FINAL. Download and print a copy of your application for your records by clicking on the

icon in the Application Summary section in the right column. Note: If an update is required prior to the Deadline, you can make the update and resubmit as FINAL.