EFC Scholarship Program - over $150,000
Electro-Federation Canada (EFC) and its members continue to help students across Canada reach their education and career objectives through the EFC Scholarship program.

In 2018 we are awarding $156,250 to support university and college students in their pursuit for an exciting career in the electrical and electronics industries. View 2017 student testimonials.

Application Deadline: Midnight, May 31st, 2018.
Eligibility
All applicants for the $1,000 EFC scholarships are Canadian citizens or permanent residents who have completed their first year of a recognized university or college in Canada, have maintained a minimum 75% average* and be registered in a full-time eligible post-secondary degree or diploma program. Students must be enrolled in their program and attending school in Fall 2018/Winter 2019 semesters. Applicants may apply for a total of only three scholarships. Please review specific criteria for each of the EFC member sponsored scholarships.

For all scholarships, preference will be given to those applicants with a connection to an EFC member company (http://www.electrofed.com/members/) and who are pursuing post-secondary education in a discipline which targets a career in the Electrical industry, such as Electrical Engineering, Electrical Technologist, Electrical Technician, Industrial Distribution, Sales, Marketing, Finance, Human Resources, Management Operations, Logistics and Information Technology.

EFC Scholarship Program Brochure
*Electro-Federation Canada and its members reserve the right to request verification of any information submitted by an applicant. All selected students will be asked to provide both an official transcript and proof of 2018/2019 school enrollment prior to the scholarship being confirmed and awarded. Selected students will provide permission for promotion of their name and scholarship in media and marketing materials. All decisions are final and not eligible for appeal.
Chairman's Message
Creating Awareness and Opportunity for Canadian Students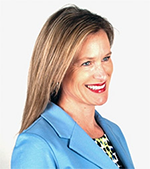 Connie Chabot
Chair, EFC Scholarship Committee
The EFC Scholarship Program exemplifies an industry that understands its responsibility to attract future talent. In the face of technological, demographic, and socio-economic evolution, the employment landscape is in constant transformation resulting in substantial challenges for companies as they work to define and redefine their recruitment practices. Furthermore, as competition for the brightest and the best of the next generation of business leaders intensifies, it's more important than ever to engage young people. Members of the Canadian Electrical Industry have 'joined hands' since 1995 to create awareness and opportunity for Canadian students by taking their stories to universities, colleges, and vocational education centers.
On behalf the Electro Federation Canada Scholarship committee, I am pleased to announce that the program continues to demonstrate growth in 2018, offering a record amount of $156,250 translating into 62 individual scholarships available to Canadian students. The participating companies listed in this brochure are leading manufacturers, distributors, agency-representatives, and associations within the industry, offering a vast array of dynamic career opportunities at all levels of their organizations. Their dedication to the program demonstrates a commitment to corporate social responsibility both within and outside the industry.
Students are invited to explore all the exciting scholarship opportunities at https://scholarship.electrofed.com. Being an EFC Scholarship recipient is often the first step in opening doors to engaging dialogue with industry members, as well as exciting internship and employment opportunities. Don't wait ... apply now and be the next worthy recipient of an EFC Scholarship - https://scholarship.electrofed.com.
Thank you to all the committee members who dedicated their time and effort to achieve the program goals, and thank you to all participating members who have made this initiative possible for over 23 years now.
Connie Chabot
Chair, EFC Scholarship Committee
Vice-President, Sales and Business Development
Stelpro
2017 - Student Testimonials

Stephen Vuong
Eaton Awards of Academic Achievement

Michelle Ogley
Siemens Canada Academic Achievement

Amanda Albers
Emerson Automations Solutuons Scholarship

Linda Chigbo
Ontario Energy Network (Women in Energy) Award

Étienne Allaire
Convectair Energy Efficient Scholarship Award
Application Process

1. Register
Click on the "Register" link to the right and complete and submit the registration form.
2. Login
Login to the EFC Scholarship System with your email and password.
3. Select
Create an application. Refer to the EFC Scholarship Program brochure.
4. Save
During the applications period, your application can be saved as DRAFT until all the required information is completed and attachments uploaded. At any time, you can download and print your application by clicking on the

icon in the Application Summary section.
5. Submit
On completion, submit your application as FINAL. Download and print a copy of your application for your records by clicking on the

icon in the Application Summary section in the right column. Note: If an update is required prior to the Deadline, you can make the update and resubmit as FINAL.
Electro-Federation Canada
Électro-Fédération Canada
180 Attwell Drive, Suite 300
Toronto, Ontario M9W 6A9
Tech Support: support@rhythmq.com
Program Info: info@electrofed.com